Skip to main content
It looks like you're using Internet Explorer 11 or older. This website works best with modern browsers such as the latest versions of Chrome, Firefox, Safari, and Edge. If you continue with this browser, you may see unexpected results.
Mission Statement
The Quinn Library encourages mindful exploration of resources to empower students to be critical thinkers, effective and ethical users of information and lifelong readers and learners in order to become productive citizens in a global and socially just society.
Reserve the Library
Teachers may reserve the library. To schedule a class, contact Sylvia McInerney
Please provide a copy of the assignment. Your reservation will be confirmed upon availability.
Group Study Rooms may be reserved by teachers for special projects.
Focus on Books
Focus on Non-Fiction
New books in Quinn Library are offered on an array of topics.
Check them out!
The Hot Hand

by

If something happened before will it happen again? Is there such a thing as being in the "zone"? Or is it simply a case of seeing patterns? The Hot Hand offers an investigation into these questions.The book is essential reading for anyone who thinks they have a shot.

Call Number: 123 COH

ISBN: 9780062820723

Publication Date: 2020-03-10

The Address Book

by

The book is filled with fascinating people and histories illuminating the often hidden stories behind street addresses and the power to decide who counts and why.

Call Number: 388.1 MAS

ISBN: 9781250134769

Publication Date: 2020-04-14

A Furious Sky

by

A 500 year history of America' hurricanes. Drawing on history and the history of hurricanes the author melds the two in order to explain how the tempests helped determine the nation's course.

Call Number: 363.34 DOL

ISBN: 9781631495274

Publication Date: 2020-08-04

So You Want to Talk about Race

by

From the mass incarceration of Black Americans to Black Lives Matter movement there is an increasing spotlight on racism in our society. Still, the subject remains difficult to talk about.The book is a guide through intersectionality and affirmative action in order to create an honest dialogue about race and racism.

Call Number: 305.8 OLU

ISBN: 9781580058827

Publication Date: 2019-09-24

Begin Again

by

Eddie Glaude, following James Baldwin, bears witness to the difficult truth of racism in America. Beautifully written with haunting overtones the book provides a promise for a better tomorrow.

Call Number: 305.8 GLA

ISBN: 9780525575320

Publication Date: 2020-06-30

1789: Twelve Authors Explore a Year of Rebellion, Revolution, and Change

by

The editors, along with ten award winning nonfiction authors, explore a tumultuous year when rights and freedoms collided with enslavement and domination and the future of humanity seemed at stake.

Call Number: 909.7 SEV

ISBN: 9781536208733

Publication Date: 2020-09-01

Crispr

by

CRISPR technology has the potential to eliminate diseases like malaria and cancer, improve the stability of our food supply and help manage conservation efforts for threatened animals. But with evolving science comes unknown consequences. Are we prepared for the risk?

Call Number: 576.5 RID

ISBN: 9781773214245

Publication Date: 2020-09-08

Hollywood Park

by

"Detailing a childhood defined by neglect, poverty and uncertainty, Jollett's story serves a a potent reminder that while we cannot change the hand we're dealt, our freedom lies in what we choose to do with those cards."

Call Number: B JOL

ISBN: 9781250621566

Publication Date: 2020-05-26
Colt Catalog & Databases

Searching for a book to read or information for your paper?
The Colt Catalog will give you print and e-books to start you on your road to research. Our Online Databases will bring you more resources to expand your topic.
Digital Books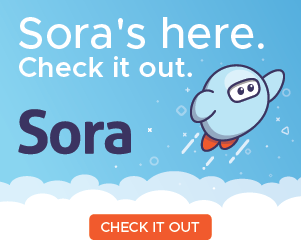 SORA ALLOWS YOU ACCESS TO A DIGITAL LIBRARY TO READ ON ANY DEVICE. ACCESS IT FROM HERE. CREATE AN ACCOUNT USING YOUR CBA LOGIN CREDENTIALS AND YOU CAN BORROW BOOKS. CHECK BACK OFTEN AS NEW CONTENT IS ADDED WEEKLY. REMEMBER TO PUT THE APP ON YOUR PHONE OR IPAD TOO!
WATCH THIS SHORT VIDEO TO HELP YOU GET STARTED. https://fast.wistia.net/embed/iframe/x1crca6t1n?videoFoam=true
Librarian
Sylvia Dixon McInerney
Library Staff
Testing Center Moderator
Br. Steven Caplice
Brother Steve has a vast amount of knowledge and has traveled extensively. He comes to us from Staten Island
Please make arrangements through your teacher to make up tests.