Skip to Main Content
It looks like you're using Internet Explorer 11 or older. This website works best with modern browsers such as the latest versions of Chrome, Firefox, Safari, and Edge. If you continue with this browser, you may see unexpected results.
Display Case
Intersect of Chemistry and Art
According to Mr. Hanley, CBA Chemistry teacher, today we tend to view chemistry and art as completely separate and unrelated entities. This was not always the case. Some writers have suggested that this schism became very pronounced in the 19th century.
One of the things that he likes about oil painting is how little the materials and techniques have changed through the centuries (linseed oil has been used since the 15th century). Although modern chemistry has added a bunch of colors that were not available to artists of past centuries, along with removing some toxic ones, many pigments have not changed because they are so color fast. The best black will always be some form of carbon. Iron oxide was a colorant used by cavemen and is still used as a pigment today.
Based on the art work of John Hanley who uses both his knowledge of Chemistry and love of painting to showcase the intersect of the two fields of study. This display is both informative and visually stimulating. Make sure you let Mr. Hanley know you liked it.
Open Library
Open Library is an Initiative from the Internet Archive that allows you to borrow books digitally. You simply create an account using your name and email. Once you have an account you can search and borrow books. Once the borrowing period is over the book is automatically returned.
Mission Statement
The Quinn Library encourages mindful exploration of resources to empower students to be critical thinkers, effective and ethical users of information and lifelong readers and learners in order to become productive citizens in a global and socially just society.
Librarian
Ed. D., M.L.I.S.
Dr. McInerney is a proud Rutgers Graduate for both her undergraduate degrees in American History and American Literature a well as her Master's in Library Science. This is a second career for Dr. McInerney. Prior to becoming a School Librarian, she spent 15 years as a researcher/paralegal working in New Jersey law firms. When she was researching one night, she realized that the only place she was truly happy was in the library. After completing her degree in Library Science she went on to earn another Masters and a subsequent Ed. D. in School Leadership from Seton Hall University. The focus of her research has been on curriculum and empowering learners.
In her spare time, Dr. McInerney likes to travel with her husband and two adult children and of course reading.
Library Staff
Testing Center Moderator
Br. Steven Caplice
Brother Steve has a vast amount of knowledge and has traveled extensively. He comes to us from Staten Island and the Middle East.
Please make arrangements through your teacher to make up tests.
Reading Role Model
MEET A READING ROLE MODEL
THIS IS AN INTRODUCTION TO FACULTY MEMBERS READING HABITS AND THEIR PHILOSOPHY ON READING. GET TO KNOW YOUR TEACHERS A BIT BETTER BY CLICKING ON THEIR NAME AND READING THE SHORT INTERVIEW.
Colt Catalog & Databases

Searching for a book to read or information for your paper?
The Colt Catalog will give you print and e-books to start you on your road to research. Our Online Databases will bring you more resources to expand your topic.
Digital Books
SORA
ALLOWS YOU ACCESS TO A DIGITAL LIBRARY TO READ ON ANY DEVICE. ACCESS IT FROM
HERE
. CREATE AN ACCOUNT USING YOUR CBA LOGIN CREDENTIALS AND YOU CAN BORROW BOOKS. CHECK BACK OFTEN AS NEW CONTENT IS ADDED WEEKLY. REMEMBER TO PUT THE APP ON YOUR PHONE OR IPAD TOO!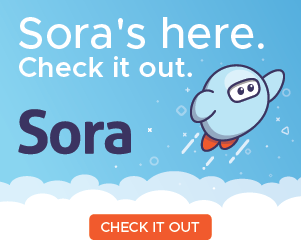 ---